We have been creating **The Strongest Connection** for more than 125 years
Since 1896, we have been designing and manufacturing specialised quality components and industrial products that connect pipes and hoses in order to safely and efficiently dose, regulate and transport liquids from A to B. Through our uncompromising approach to materials and functionality, we provide professional and long-lasting solutions for vital industries in the form of couplings, spray guns and system solutions for industrial and sanitary applications. We are constantly evolving and never go backwards. Because we want to be the Nordic region's coupling manufacturer that takes the lead in promoting quality and sustainability world by making a real and measurable contribution to Sustainable Development Goal no. 6. And because we know that only by daring to seek out change can we ensure that we remain relevant for the next 125 years. So that's what we do every single day at the office, in the workshop or when visiting our customers. Because we believe that original couplings are the key to creating THE STRONGEST CONNECTION – between materials, people and the environment.
You can count on us
Orderliness and reliability are fundamental guiding principles for our business. You'll soon find that out when you meet us. As an essential manufacturer and supplier to vital industries, we are very aware of our responsibilities. At the same time, we're not afraid to say that we know what we're doing. Because knowledge and drive are deeply rooted in our DNA. Our unique industry insight, technical know-how and understanding of our craft are built on more than 125 years of hands-on experience – which we are adding to every day.
We make it easy
Our ongoing dedication to making things less complicated stems from a fundamental belief that we exist for our customers. For the same reason, we always strive to make their lives a little easier. This applies to our accessible advice and customer service, our modern and flexible business set-up and, not least, our wide range of professional solutions targeted at industry-specific tasks – with variations that ensure maximum flexibility in terms of purpose, application and compatibility with relevant accessories.
We want the best
For our customers, the world and each other. With more than 12 decades of experience, we are the exception rather than the rule in any market. We believe that our longevity is due to an unshakeable belief in quality, sustainability and long-lasting solutions – and not least a continuous focus on hygiene and environmental concerns. You see, we don't always choose what is easy – but you can be sure that you always get what is best. We use all our knowledge and experience to understand your situation and ensure that we come up with the right solution for your needs.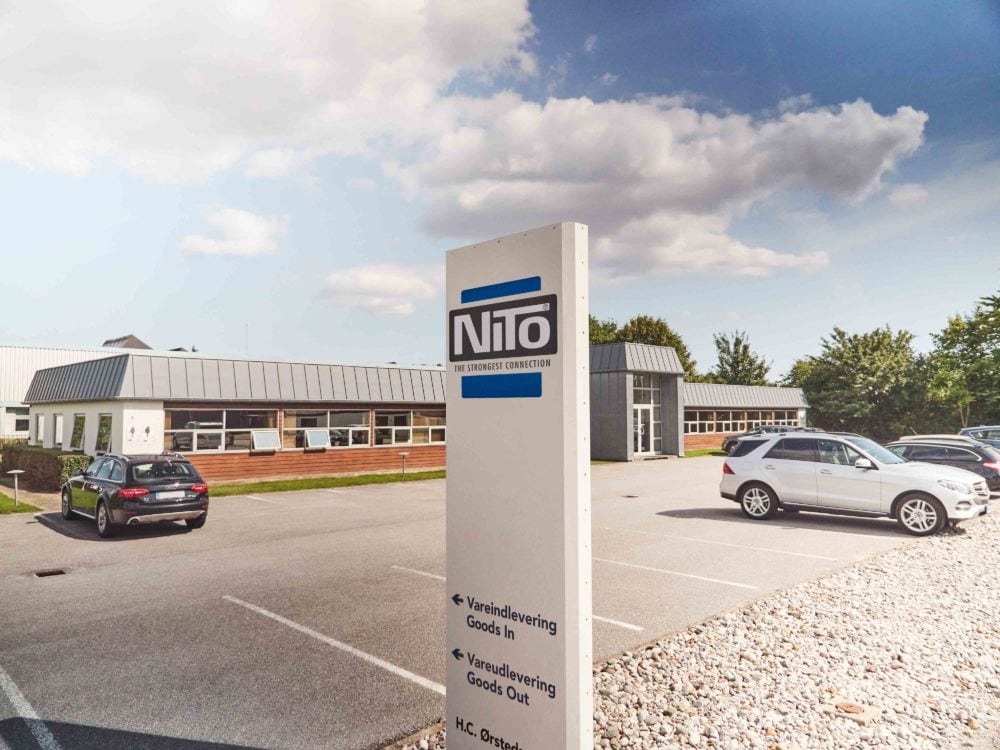 Uncompromising quality and innovation since 1896
The company was established in 1896 in Copenhagen by brass moulder Valdemar Nielsen under the name Vald. Nielsens Metalvarefabrik ("Vald. Nielsen's Metalworks"). Under the Nielsen family's ownership, the company developed steadily up to the end of the 1960s. Due to a lack of space, it was decided to move the factory to more modern premises in Haderslev. In 1969-70, a modern factory was built here, designed from the outset for industrial production. During this period, the Original NITO couplings started to account for an ever-increasing share of the company's turnover. Other innovative products from this period were NIF gas taps, OPAL showers and TOKANI drinking valves. In connection with an impending generational change in the early 1980s, the company was taken over by NKT A/S and then became a wholly owned subsidiary of A/S Fisker & Nielsen (Nilfisk Group). Under this ownership, the name was changed to Nitodan A/S in 1985. Thus, the company's name also came to reflect the main product. Today, the company's name is NITO A/S. As part of a change in strategy within the NKT Group, the company was sold in 2006 to Vikan A/S. From 1995 to 2006, the owners were various investors based in Southern Jutland. In 2018, Vikan A/S sold the company to CEO Martin Kragh, who to this day continues the work of carrying on the legacy and further developing NITO's reputation.